Errors in web accessibility mean that a significant proportion of society loses their right to access public or private information or services available on Internet. This problem threatens equality and equity of social conditions for people and their fundamental right to information. 
These types of errors cannot be ignored; resolving them is necessary if you wish to comply with Royal Decree 1112/2018. This law stipulates that all public sector websites be fully accessible as of 20 September 2021 and mobile apps as of 23 June 2021. 
At times, this type of error arises because website developers and designers do not take into account the recommendations and standards of the World Wide Web Consortium (W3C) when developing their website or mobile app. In general, there is a false belief that web accessibility requires a lot of effort and gives little in the way of benefits; many think that it is a complex undertaking not worth considering during website development. This in turn will lead to more serious issues down the road.
In this regard, it is important to show the community that developing an accessible website does not have to mean any losses at all. By taking into consideration a few points at different stages of website development you can prevent a number of web accessibility errors. But if left unresolved, these errors will need to be corrected at a later date requiring twice the effort.
These are the kinds of web accessibility errors that you need to avoid
In order to help you ensure the smooth running of your website, and with accessibility as our objective, we have prepared a list of the most common errors in web accessibility that you should avoid:
Visual content without alternative texts
Screen readers are unable to interpret the images and what they represent; the existence of alternative text makes interpretation possible.
ALT tags should always be present in any kind of informative visual support, so it is important to add short and concise descriptive texts that explain the contents of the image.
Put your website to the test! Try using a screen reader to hear the website just like other users might hear it. If your content, including videos, images, and presentations are not accompanied by a descriptive text, the majority of your content will not be accessible to a large proportion of users.
Unclear structure and hierarchy
It is very important to establish content structures and hierarchies that allow users to move around the website as efficiently as possible, as this will help them know where they are located on the website at all times. 
Use of custom keyboard shortcuts
While these shortcuts may increase user comfort when navigating using the keyboard alone, they may cause problems that directly affect accessibility. These should be avoided at all costs.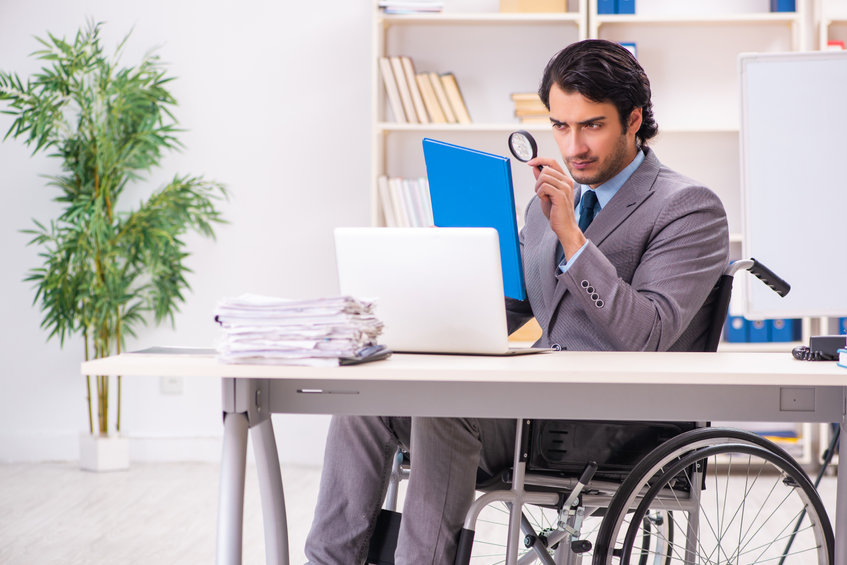 Poorly optimized written content
It is important to bear in mind at all times that a poorly designed text structure affects accessibility and so it is important to try to apply actions that will make text easy to scan. Including descriptive subtitles or simple and clear language accompanied by visual support will aid reading of screens.
Ignoring the fact that there are many kinds of disabilities
Bear in mind that web accessibility does not only benefit one group of people with a specific disability. Similarly, optimization can never be thought of as being for one kind of disability alone — on the contrary — all the recommendations and standards for web accessibility offered by the W3C will ensure that your website is fully accessible for everyone.
Establish hierarchies using a single colour
Some users find it difficult to distinguish colours; using a single colour or several shades of the same colour may disorient them. That is why it is important to use contrast and complementary indicators that help to emphasize the hierarchy used on the website.
How can you make your website more accessible to prevent these errors?
The first is to be aware of the differing needs of people with disabilities and the elderly. This will make it easier to better apply the recommendations and standards for web accessibility set forth by W3C. As a result, optimization in web accessibility will become a simple task that will bring many benefits to your website project.
It is always important to bear in mind that an accessible website will guarantee that all users, with and without disabilities, will have full access to your website's content and services. This will attract more traffic and enhance dissemination—the best reward for all the effort expended in ensuring accessibility.
There are also automated tools that detect errors in web accessibility. However, if these tools are not supervised by a team of expert technicians specializing in accessibility, it is very difficult to resolve such errors effectively and ensure full compliance of the website with current regulations.
If you think you need detailed guidance on how to detect errors in web accessibility that could negatively impact your website's performance, please contact us—there is no obligation to buy.