Royal Decree 1112/2018 seeks to guarantee the minimum and essential accessibility requirements for public sector websites and apps. Coming into effect on 20 September 2018 and transposing European Directive 2016/2012, these regulations called for website accessibility compliance by 20 September 2020 and mobile application accessibility by 23 June 2021.
These regulations place special focus on eliminating any barriers to accessibility that may exist on websites and apps. Their aim is to facilitate and ensure that everyone is able to exercise their right to access public services and information provided via digital technology.
This is without a doubt the result of technological evolution, which has been setting the standard when it comes to the need to close the digital gap that has become more accentuated in recent years. Against this backdrop, web accessibility regulations and standards have undergone constant revamping at both the national and international levels.
The result of all this is that we need to seriously focus on the tasks needed to meet the various requirements and recommendations issued by competent bodies in the field of web accessibility; the idea being to initiate actions that ensure compliance in this regard.
Who needs to comply with Royal Decree 1112/2018?
Royal Decree 1112/2018 encompasses all public sector websites and mobile applications, involving this sector in both in its organisational and administrative capacities. Important consideration is given to the development, editing, and management of content published on the various websites of this sector.
Royal Decree applies to the following areas:
Central Government.

Autonomous Community Governments.

Local Government Bodies.

Public Sector Institutions.

Associations including administrations, institutions, entities, and other groups that are part of the Public Sector.

Department of Justice.
As can be seen, the regulations apply to the public sector across the board, encompassing all public entities. That is why it is important to understand the corrective actions needed to comply with web accessibility.
What are the web accessibility requirements of Royal Decree 1112/2018?
In order to ensure full access to information and services and eliminate the different barriers that might exist on the Internet, the Royal Decree proposes compliance with the following standards:
Guaranteed accessibility for users with disabilities and the elderly. The aim is to share content that is perceivable, understandable, operable, and robust.

Accessibility should always be borne in mind throughout content design, management, maintenance, and updating processes.

Implementation of actions that increase accessibility taking into account the minimum accessibility level required in each case.
Up to this point we have touched upon everything that involves accessibility for websites, but how do we ensure accessibility for mobile applications?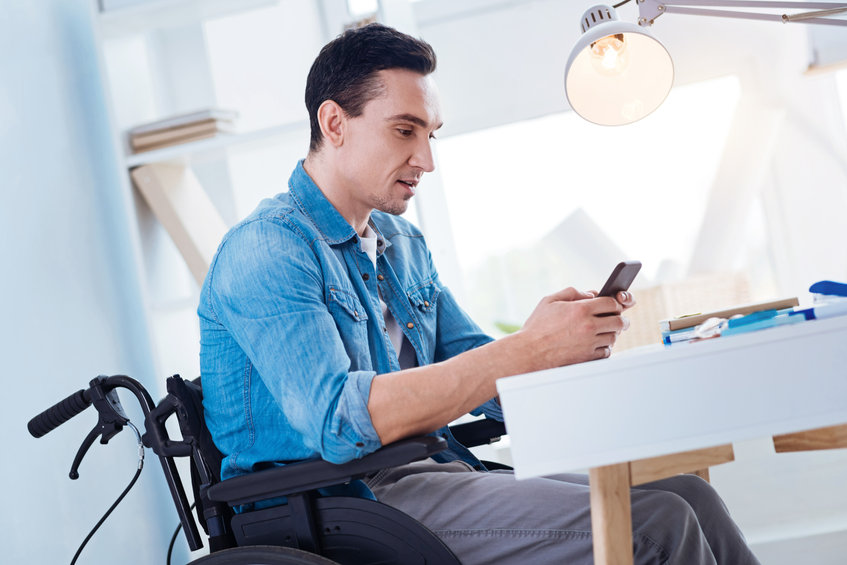 Mobile applications must be accessible by 23 June 2021
It is important to know that the Royal Decree 1112/2018 calls for all the apps offered by the public administration (administrations, entities, organisations, and public companies) to be accessible as of 23 June 2021. 
Mobile devices and associated applications have become essential in our society, mainly due to their high portability, fingertip access, and ease of use. This, coupled with the growing need for people to be permanently connected to digital platforms.
This reality is shared with people with disabilities, who face the greatest barriers and as a result are excluded because their level of web accessibility is insufficient.
To this end, it is important that we consider the basic concepts and principles of web accessibility at all times, which involves application design and the final software development.
Review and generation of web accessibility reports
This is where having sufficient technical knowledge takes on vital importance, as this is what contributes to compliance with all the requirements of the spanish Royal Decree 1112/2018. This includes thorough evaluations of web accessibility and the generation of reports required by the Spanish Web Accessibility Observatory. As well as an examination of the various processes and tools used to execute accessibility evaluations and actions throughout the apps' lifespan. 
We need to appreciate the importance of accessibility in mobile applications and websites as this will always have a direct and positive benefit for society as a whole and not only people with disabilities. It contributes to the fulfilment of all the pertinent legal obligations, and institutions and companies that make accessibility a priority will also earn greater respect from society at large.
If you have read this far and if you have any questions or require some advice on the matter, we can help! Don't hesitate to contact us; there is no obligation to purchase.