Solutions for web and app usability and accessibility
We will help you make your website or app fully accessible, fulfilling all relevant regulations quickly and easily
Comply with accessibility legislation and regulations
Comply with W3C recommendations, as well as Spanish and international digital accessibility regulations.
Facilitate usage of your website for people with disabilities
Improve digital accessibility for all citizens.
Easy start-up, giving you an accessible web in just a few days
And all this without modifying your website or app; let us take care of all the technical details.
Keep your website up-to-date in terms of accessibility and usability
Automatic updates in conformance with legal obligations and international guidelines on web accessibility.
Improve your organization's Corporate Social Responsibility reputation
Universal accessibility: improve your website or app to make it usable and accessible for everyone.
Digital accessibility certification
We certify your website's or mobile application's compliance with accessibility guidelines.
This video explains the operation of our inSuit platform, one of the tools used by Tech4access that will improve website accessibility.
Tech4access uses a number of tools that will help you improve accessibility and usability of your website or app.
One of these tools is inSuit, a platform that improves web accessibility and usability – and does so as simply as possible. Based on WCAG and WAI-ARIA standards and customized by our accessibility and usability experts, this tool transforms your website in real time, providing a series of tools that ensure accessible navigation (technical aids).
We also provide a 360-degree service, which along with the accessibility platform, will help you to comply with web accessibility regulations and ensure that people with disabilities are able to access the content of your website and app.
Discover the solution that best suits your needs, free of charge
We are consultants specialized in accessibility and usability, helping you to find the solution that best adapts to your organization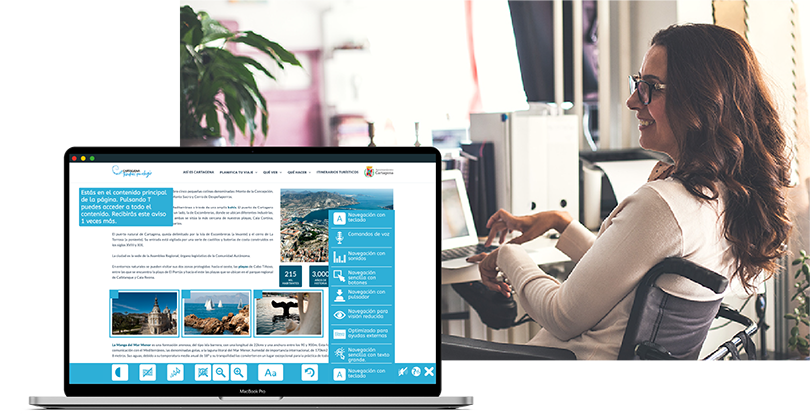 Our goal is to make your website or app fully accessible, meeting all relevant regulations. This is how we do it:
If you need help to improve accessibility and usability of your organization, do not hesitate to contact us!
You can also call us directly at (+34) 960 010 158.